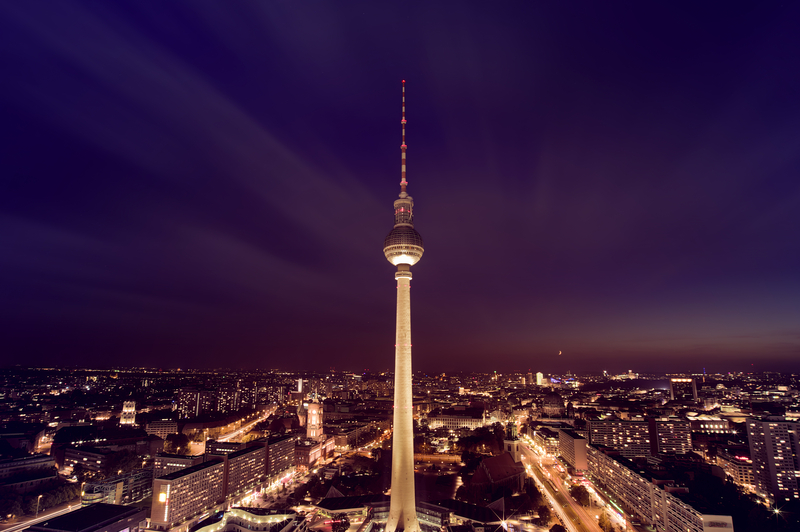 Andrea Rosen moved to Berlin from Tel Aviv at the end of 2016 to work with a small company in the city's burgeoning start-up sector.
Her decision to leave one of the world's most vibrant start-up ecosystems to uproot to the German capital says much about the growing potential of Berlin as an international hub for new companies.
"I fell in love with the blank canvas that was Berlin," she says. "[Berlin] wasn't ahead of Tel Aviv's start-up scene in terms of the technology of the ecosystem but I found this romance about it. Berlin was at the beginning of a start-up explosion and there was a lot of support to allow you to do different things."
Rosen is now the Smart City Lead for Infarm, a German company founded by Israelis that grows produce inside supermarkets. She soon found a myriad of other urban tech start-ups and saw an ecosystem that was organically growing in Berlin.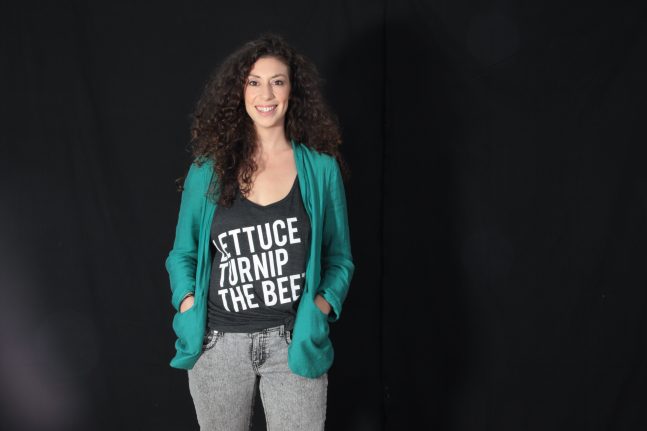 "People were moving from all over the place as it was made easier to get visas," she explains. "It was becoming a more international ecosystem, especially because it is much cheaper than London or Paris."
A cheap place to live has long been Berlin's main calling card over other European capitals. A city equally renowned for its tolerance and "re-birth", it became a magnet for creativity when people flocked to the city from all across Germany and Europe after it was named the capital of the newly unified country in 1990.
In the tech boom of the late 1990s and early 2000s, Alando, a German online auction house, was bought by eBay. Rather than the owners taking the money and running, they stayed and invested it back into the fledgling start-up ecosystem.
"This made the city even more attractive to creative and innovative people to come to Berlin," explains Norbert Herrmann, who has headed the Berlin Senate's (city government) start-up affairs team since 2017. "It was the 'alumni' of the ecosystem and the coolness of the cheap factor that helped build the sector."
The city contributed to the development of the start-up ecosystem through its venture capital investment bank, IBB Bet which was created at the end of the 1990s, and through Berlin Partner for Business and Technology, the city's economic development agency.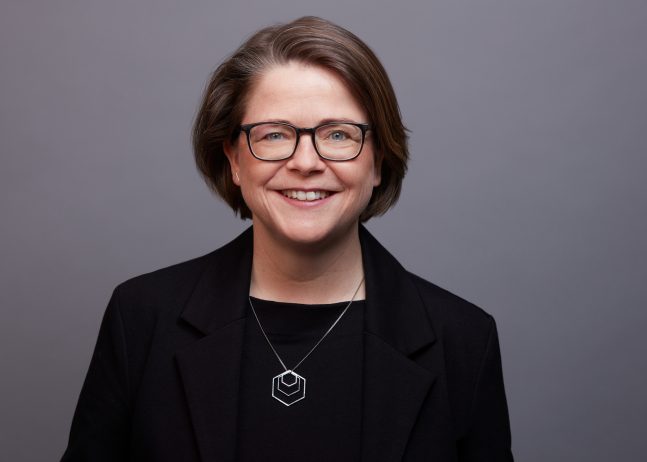 Berlin Partner, a public-private partnership that is commissioned by the city government but counts 230 Berlin companies as financial backers, created its smart city unit in 2013. It is unique in that not many promotion agencies have a unit that specifically focuses on 'smart city' tech.
"We started by asking our clients, all the tech companies, if smart cities were something of interest to them or just a fad, and they said yes," explains Beate Albert, who heads the agency's smart city unit.
Albert's main task is to bring innovation into the city, whether by implementing technologies, or putting them into action in certain urban settings. The governance model in Berlin helps foster this. A city with state powers in the German federal system, Berlin also consists of 12 boroughs or districts.
"That makes Berlin quite complicated but those districts, or little neighbourhoods, can act as the test beds we need for innovation projects," explains Albert.
Mapping the ecosystem
In 2018, Start-up Genome named Berlin as the city with the most foreign start-up founders outside of Silicon Valley. "We realised this is a very important economic industry," says Herrmann. "So we try to help them."
This support now includes an immigration service for those from outside of the European Union, startup scholarships, programmes by the development bank, the Chamber of Commerce, and Berlin Partner.
"We don't say we are the leading partner of the ecosystem because each position plays a role," adds Herrmann. "They are all really experienced, and they know what they are doing. But if we find bottlenecks in some places then we try to look at those and problem-solve solutions."
To further assist, in January this year, a map of 2,700 start-ups in the ecosystem was compiled by Dealroom and the Senate Department for Economics, Energy and Public Enterprises. And in March, the data was used by Urban Impact to identify 100 of those start-ups working in urban tech.
"It sounds almost banal, the idea of just making a list of who is actually here on our home turf," says Jonas Schorr, Cofounder of Urban Impact, a consultancy which specialises in linking urban tech start-ups with government opportunities. "But those start-ups working on urban tech did not really identify with one community. They wouldn't consider each other like how fintechs can easily identify counterparts."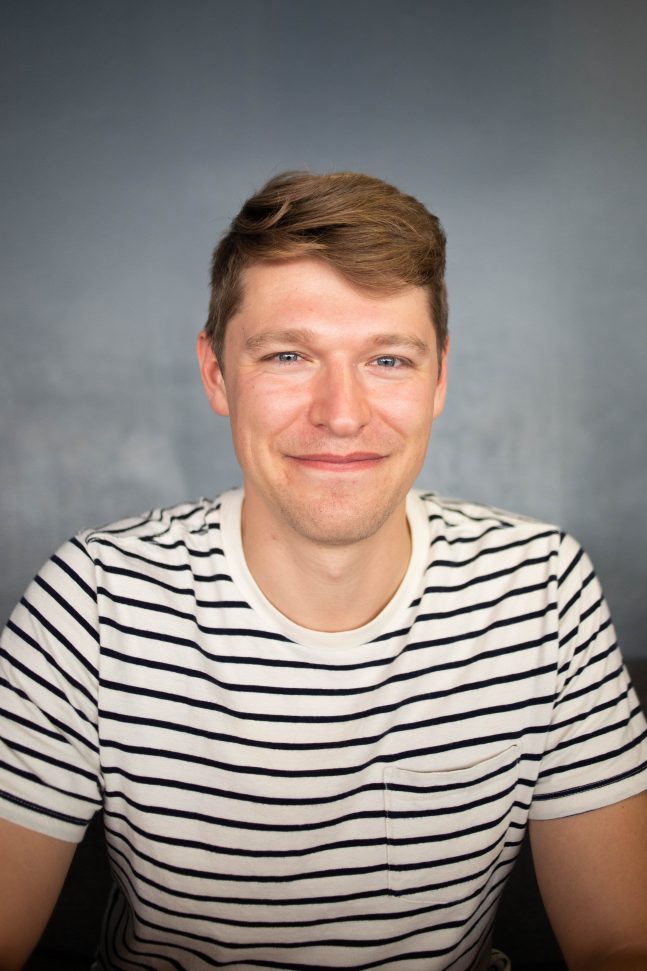 Herrmann adds that his department and many others within the different layers of government would often be asked how many start-ups are in Berlin, to which he and others could only reply in estimations. "We wanted a long-term and continuous map of the start-up system of which there was strong political will to fulfil it," he says.
Schorr says that it's important to note that he did not come up with something completely new but added a new perspective. The breakdown into urban tech was not always easy as many overlap into prop-tech or infrastructure. The team decided to look for a very clear urban focus of a given technology or its direct influence on some of the urban systems. This was then broken down into mobility, liveability and gov/civic tech, enabling urban IoT, and infrastructure and utilities (see image below). For Schorr, the numbers were surprising.
As someone who had been working in Berlin for more than seven years on smart city initiatives he thought he was familiar with most of the start-ups in that field.
"Off the top of my head I probably counted 20 or 30," he says. "I didn't know there were four times as many. It was fascinating to see how various technologies and business model approaches there were in urban tech in just one city."
This included a large number of sub-categories and different technologies from satellite imagery to water sensors. Plans are afoot to dig further into the data to examine jobs, growth and the economic impact from year-to-year. For Herrmann the map now allows him to answer with confidence incoming queries from the public or city staff about start-ups in the city.
"If we want to contact a company for special reasons, we can use the map," he says. "Similarly we can see how many start-ups are operating in the transportation sector, and it is useful to find out what has been going on in the last week or days."
Herrmann says that with the map there is now greater potential for the city, either in his Senate department or the governing mayor's office, to identify and work closely with the start-up sector on digitalisation and urban tech tools. While Berlin does provide some money in the form of scholarships to start-ups, this is still far from the start-up in residence programme run by Amsterdam and other cities. Sources say discussions are underway to potentially provide a budget for a similar programme.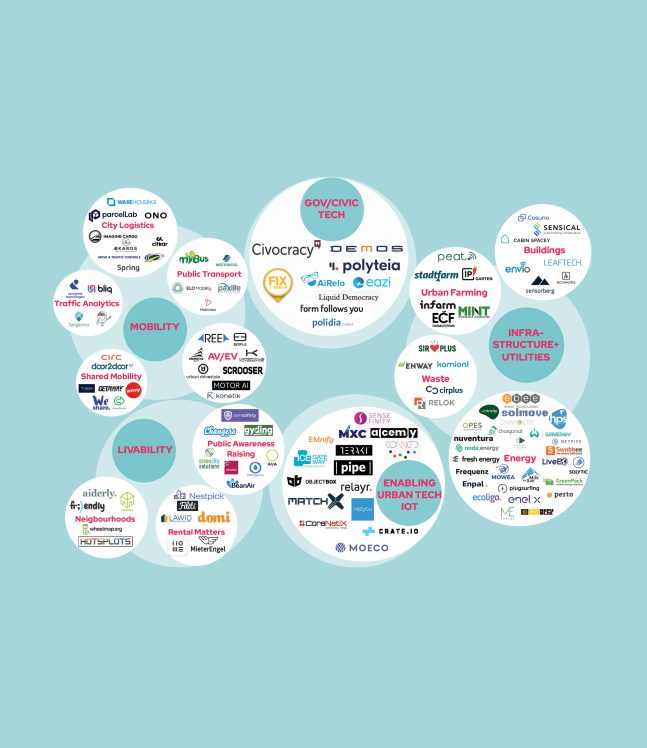 CityLAB Berlin
Until then, to provide a link between government and start-ups, the newly formed CityLAB Berlin opened its doors in June 2019. An experimental laboratory, its remit is to develop new ideas to ensure and enhance the liveability of Berlin and is intended to be "continuously developed and re-imagined". "The idea is to have an interface between the city and public administration and the start-up scene, and also citizens and civil society," explains Benjamin Seibel, Director, CityLAB. "If the government is like a cruise ship we are the speedboat trying to chart the way the government can go. Our goal is to lead the digital transformation in the public sector."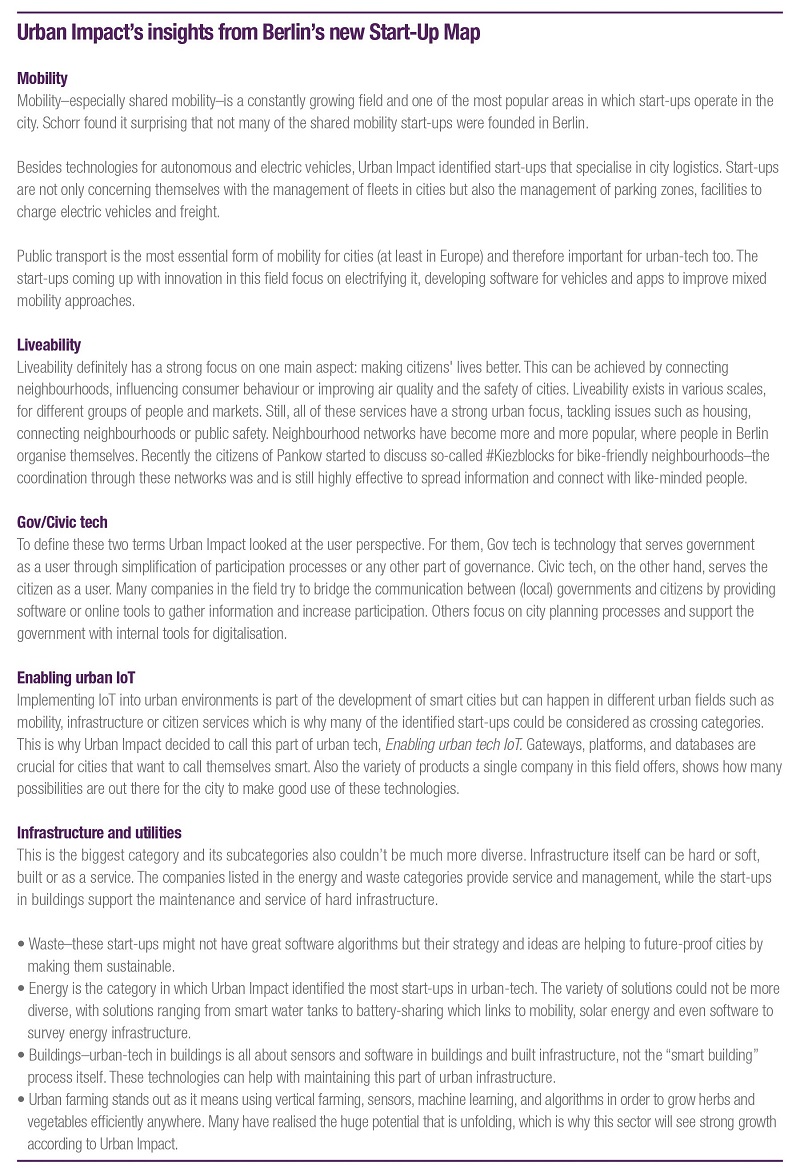 One day Seibel hopes to have government services of the same quality as private services – and "a lot could be learnt from the start-up scene". He admits that for this to happen, greater changes across government in Germany are needed.
"The UK led the way with GDS [Government Digital Service], but we still don't have that in Germany," he says. "We want to be on a similar track with open government, more transparency, and to be more accessible to the start-up community. Our final goal is to enable a government worker and a start-up entrepreneur to talk to each other, understand each other and to share technology."
Similarly, he notes that through the lab, he hopes that start-ups will understand better how government works.
"Often the solutions they are offering do not fit," he says. "The government then usually has no use for them due to it operating in a completely different way. We want to make the 'mysterious' operations of government more transparent."
The cumbersome and slow-moving nature of government is something that Rosen from Tel Aviv can attest to. "Everything is bureaucratic and slow and it can be very hard to get the right decision makers in the one place to move forward on projects. This is a huge turnoff," she says. "But this is not a unique problem to Berlin or Germany. They are certainly not alone on this."
Seibel explains that this is precisely the honest and open feedback the lab is happy to accommodate. "We host groups that are openly critical towards government," he says. "They run events at our space, and that is fine as it is an opportunity to learn. This sets us apart from other government-centric labs in that we have a lot of autonomy and freedom and we try to put that to good use."
There is a refreshing honesty about the state of Berlin's start-up scene from those that drive its ecosystem. As Beate Albert from Berlin Partner notes, Berlin has had to reinvent itself from decade to decade and is nowhere near "finished".
The start-up romance that attracted Andrea Rosen is still a calling card.
"Your ideas are highly appreciated and you get the freedom in Berlin to create these and to develop yourself as an individual and bring added value to the city," says Albert. "In Berlin, people do not ask where you are coming from, but rather where you are heading to."